Today's Celebrity Horoscope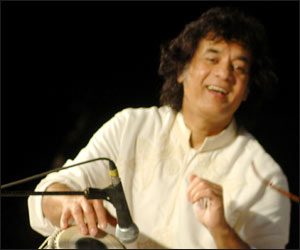 Zakir Hussain
BORN: 1951-03-09
SIGN: Pisces
PROFESSION: Musical Producer

Hussain is a renowned Tabla maestro of the country. He is the son of Ustad Alla Rakha, another legendary tabla player who has made India proud several times. Zakir was born on 9 th March and is a Piscean by virtue of his date of birth…
Personality scope
Zakir Hussain's planetary arrangements upon his natal chart make him what he is as a person. Under the impact of certain planets on his birth chart he turns out to a person with great intuitive power, spiritual inclinations and deep sensitivity.
Career scope
His excellence and rich taste is always reflected through the career he pursues. In fact any vocation that does not appeal to him aesthetically isn't actually his cup of tea. At his area of work, he tends to be creative and somewhat philanthropic when it comes to executing his duties or associating with colleagues
Achievements scope
Zakir Hussain has startled the country and the world with his skills as a percussionist. Apart from achieving the very prestigious Padma Shri and Padma bhusan at such an young age, he has achieved several other prestigious awards like Indo-American award, Sangeet Natak Academy Award, Kalidas Samman, 51 st Grammy Awards, Guru Gangadhar Pradhan lifetime achievement award.
Family and relationships scope
He has some pre-fixed personal standards when it comes to the relationship domain and expects his near and dear ones to live up to that standard. This may often make him quite critical of his loved ones. He is dedicated and sensitive when it comes to dealing with his family members.
Money scope
Though he is not very much inclined towards money or financial pursuits he does not also despise money altogether. If needed, he can adhere to a fixed budget, can save money and hold the restraints on spending. He tends to be quite dogmatic at times in this regard.
Health scope
His general health is likely to be good enough. But occasionally he may fall a prey to melancholia and depressive thoughts which may however be brushed aside if he gets involved in creative pursuits. He needs to take doctor's advice before taking any medicine as he is very likely to fall a victim to drug reactions.
Hussain is a renowned Tabla maestro of the country. He is the son of Ustad Alla Rakha, another legendary tabla player who has made India proud several times. Zakir was born on 9 th...