Today's Celebrity Horoscope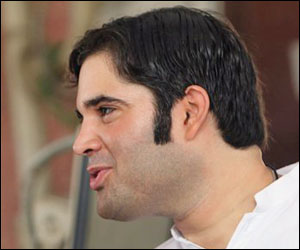 Varun Gandhi
BORN: 2017-03-13
SIGN: Pisces
PROFESSION: Politician

Varun Gandhi is a well known politician of the country. He belongs to the famed political family, he being the grandson of Late Indira Gandhi, ex PM and son of another renowned political figure and social activist Maneka Gandhi. Varun Gandhi is a Lok Sabha member and represents politically, the constituency of Sultanpur. He is a part of the BJP Political party. He was born on 13th March and is a Piscean native by virtue of his date of birth
Personality scope
Varun Gandhi's natal chart is deeply influenced by the planet Neptune. Under the planetary influence of Neptune, he turns out to be an idealistic individual with a strong sense of personal will. He is also known for his remarkable generous streak.
Career scope
Generally, Varun Gandhi needs something fairly unique and extraordinary in his career to keep himself attentive and interested. He is attracted towards a vocation that keeps him emotionally invested. He is not at scared of trying unconventional work modes.
Achievements scope
Varun Gandhi is a dynamic political leader who became MP while he was just 29yrs of age. Also, just at the age of only 33years he became general secretary to BJP Party's core committee and that is indeed a grand achievement of Varun. In the 2009 election, he overthrew his rival and won the election from UP's Pilibhit by a commendable 3 lakh votes margin. Thus he shows great promise as a political leader and the party hopes to pitch him as a youth icon to attract maximum young voters.
Family and relationships scope
He is likely to have a robust social circle and lots of friends in his life. However, he at times wishes to maintain some kind of emotional distance from his most close friends. That allows him time for self-introspection and self-healing.
Money scope
Financial hard times and jeopardy are very much ordained by his stars. But the good thing is that he has the power to accept it and live on meager means too. His calm and wise approach towards money matters allows him to grapple with all monetary hardships in an efficient way.
Health scope
Health is never an obsession for Varun Gandhi. He tries to be healthy the natural way without much ado. Though his physical health is not that of an athlete yet he is blessed with a more or less strong body
Varun Gandhi is a well known politician of the country. He belongs to the famed political family, he being the grandson of Late Indira Gandhi, ex PM and son of another renowned pol...