Today's Celebrity Horoscope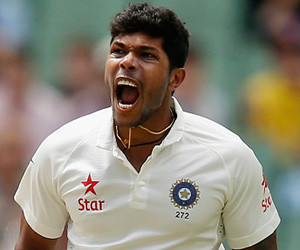 Umesh Yadav
BORN: 1987-10-25
SIGN: Scorpio
PROFESSION: Cricket Player

Umesh Yadav is a popular player in the Indian cricket team. He is known for his fast medium bowling skills. His brilliant performance in Vidarbha team has carved a distinct niche for him. He was born on October 25th and is a Scorpion by virtue of his date of birth
Personality scope
Neptune and Pluto are the two planets that impact the personality of Umesh Yadav. Under the influence of these planets, Umesh turns out to be a very affectionate kind of person with high levels of ingenuity, creativity, dependability and energy
Career scope
He looks for good rewards from his field of work. He wants his efforts at work place to be recognized. Any task that does not guarantee a reward may not attract him much.
Achievements scope
Umesh's stars show a very promising achievements domain for him. He debuted from the Vidarbha team as a first test cricketer. He achieved a remarkable maiden century for Vidarbha in the year 2015. In the year 2010, he had debuted as an ODI Match player against Zimbabwe
Family and relationships scope
When it comes to the relationship domain, Umesh likes to experiment with his various relationships. Exploring the hidden challenges in a relationship excites him and dullness in love life may quite repel him
Money scope
Umesh always makes sure that he has enough of what is referred to as 'financial security'. He never misses an opportunity to bring about his own financial growth and thus money matters are never an issue for him
Health scope
His health status is likely to be average for most of the time. The reason behind this is that he tends to overlook the symptoms of diseases that might show up and that lead to a decline in his vitality
Umesh Yadav is a popular player in the Indian cricket team. He is known for his fast medium bowling skills. His brilliant performance in Vidarbha team has carved a distinct ni...