Today's Celebrity Horoscope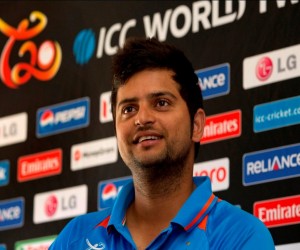 Suresh Raina
BORN: 1987-11-27
SIGN: Sagittarius
PROFESSION: Cricket Player

Suresh Raina is popular professional cricketer of team India. He is known for his adept middle order, left-handed batting style and occasional off-spin bowling. He is also specially recognized for his superior fielding skills. He was born on November 27th and is a Sagittarian by virtue of his date of birth
Personality scope
Planets Mars and Jupiter influence the personality of Suresh Raina. Under the impact of these planets he turns out to be a friendly and generous individual along, possessing a high level of sensitivity and perception as well.
Career scope
He is skillful and talented in terms of his career related attributes but needs a big push in order to act and take the needful career initiatives. Once he manages to do so, the pinnacle of success awaits him
Achievements scope
Achievements of Suresh Raina are pretty numerous and stars spell of more and more achievements for him in the days to come. Some of his most notable achievements include being the first batsman from India to acquire centuries across all the three game formats; being the first batsman from India to score over 6000 runs in the Twenty20 career and many more such achievements…
Family and relationships scope
He shares a very strong bond of sympathy, love and consideration with his near and dear ones. When it comes to love and romance, he maintains a safe distance from short time flings and looks for lifelong commitment
Money scope
There seems to be a great imbalance between the way he earns and the way he spends. He is capable of earning handsomely but also spends most recklessly and that makes his monetary status pretty dicey
Health scope
He can turn healthier if he is a little more cautious about health. Watching out on proper eating and sleeping patterns plus adopting effective exercises to elevate fitness are the main areas he needs to work on
Suresh Raina is popular professional cricketer of team India. He is known for his adept middle order, left-handed batting style and occasional off-spin bowling. He is also speciall...