Today's Celebrity Horoscope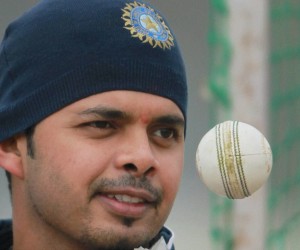 SHANTHAKUMARAN SHREESANTH
BORN: 1983-02-06
SIGN: Aquarius
PROFESSION: Cricket player

Santhakumaran Shreesanth is an ex cricketer of the Indian cricket team. He had played as a tail—ender plus right-handed batsman. His bowling style was right-arm bowling at a fast/medium pace. He was a player in the IPL Rajasthan Royals team and also played for team Kerala. He was born on 6th of February and is an Aquarian by virtue of his date of birth
Personality scope
The astral alignments on Sreesanth's natal chart make him a significantly multi-talented individual and a habitual dreamer who can actually dream to any lengths. His quick-witted nature makes him get specially noticed in every genre of life
Career scope
Sreesanth is attracted to jobs/tasks or work projects that are a good fit for the kind of intelligence or aptitude he has. He loves honing his skills through work and proving his mettle with efficiency in presence of his colleagues
Achievements scope
Sreesanth started his cricketing career as a leg-spinner and followed the gaming style of senior cricketer Anil Kumble. Soon, his skills in cricket were proved and he started playing for Ranji Trophy matches, ODIs, Test matches, T-20's, IPL etc.
Family and relationships scope
He is quite sentimental and emotional when it comes to dealing with his near and dear ones. He is overtly romantic and prefers to be somewhat 'adventurous' when it comes to exploring love and love life
Money scope
In matters of money, he shows great improvising and organizational skills. He can easily make his money grow by making optimum utilization of such skills. In matters of spending he shows a rather 'frugal' approach
Health scope
Health sector may pose some threats for him all the time. His issues may spring from stress-related roots rather than having connection with the actual body. Thus, a disturbed mind can result in a disturbed body for him.
Santhakumaran Shreesanth is an ex cricketer of the Indian cricket team. He had played as a tail—ender plus right-handed batsman. His bowling style was right-arm bowling at a ...