Today's Celebrity Horoscope

Ratan Tata
BORN: 1937-12-28
SIGN: Capricorn
PROFESSION: Businessman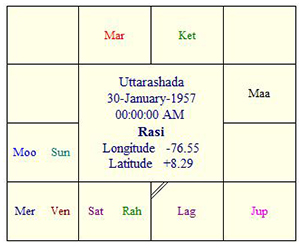 Ratan Tata is a renowned business tycoon from India. Right now he is holding the post of the Tata Group's Chairman. Apart from being a businessman he is also an adroit investor and philanthropist. He was born on December 28th and is a Capricorn native by virtue of his date of birth
Personality scope
Sun and Saturn are the chief planets influencing the personality of Ratan Tata. Under these planetary influences he turns out to be a highly competent individual with a flawless sense of judgment
Career scope
Career success comes to him through his own efforts. He attaches great importance to his work and can actually go to any lengths to meet his work targets. All his career moves are driven by surging passion
Achievements scope
Rattan Tata is not an unknown name in the world of Indian business. His capabilities and achievements can be judged from the many prestigious awards he has achieved so far. Some of the awards he has achieved include Padma Bhusan, Padma Vibhusan, CNN-IBN Indian of the year in business award.
Family and relationships scope
Friends and family are of paramount importance to him. He deeply relies upon them, takes them as their source of strength and values his bond with them. In matters of the heart, he comes with certain insecurities
Money scope
Money and Ratan Tata are lifelong companions. His profound financial intelligence allows him to understand the complex intricacies of money matters and makes him quite skilled at money management
Health scope
Ratan Tata is blessed with the kiss of good health. Apart from his built-in vitality his own pro-health endeavors are quite instrumental in offering him with a hale and hearty mind and body
Ratan Tata is a renowned business tycoon from India. Right now he is holding the post of the Tata Group's Chairman. Apart from being a businessman he is also an adroit invest...