Today's Celebrity Horoscope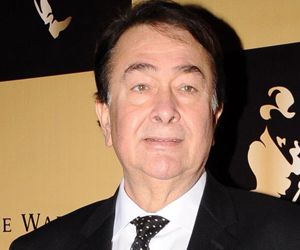 Randhir Kapoor
BORN: 1947-02-15
SIGN: Aquarius
PROFESSION: Actor

Randhir Kapoor is one of the sons of the famed Kapoor family of Bollywood. He is one of the sons of the veteran actor of the yesteryears; Raj Kapoor. Randhir Kapoor too is an actor of Bollywood along with being a movie director as well as movie producer. He was born on February 15th and is an Aquarian by virtue of his date of birth
Personality scope
The planetary influences on Randhir Kapoor's natal chart craft his personality in the most unique ways. Under the planetary influences he turns out to be an individual with immense capacity for self-expression and has an unusual charisma to his persona.
Career scope
Randhir Kapoor is attracted to a career that is challenging as well as varied in nature Also, financial incentives in career matter to him a lot. Thus, he tends to be in search of high-paying career projects most of time.
Achievements scope
Randhir Kapoor's fame as a part of the Kapoor family is something gifted to him by the stars. But, he too has proved himself as a worthy part of that family by establishing himself as a good actor. Today he presides over the R.K Studios and is executing his role most efficiently in that…
Family and relationships scope
He prefers to stick to traditional norms when it comes to forming relationships. A happy family attracts him much and he does his best to shower his love and care on his loved ones. Any individual who syncs with his level of intellect appears appealing to him in all respects…
Money scope
In money matters, Randhir Kapoor acts generously enough. He tends to donate money in an unrestrained way to the unfortunate lot. But always this may not work to his favor and he really needs to master the judicious ways of using and spending money
Health scope
In matters of health, he needs to be cautious especially when emotional distress strikes him. This may lead to a downfall in his physical health. Skin related issues and circulation related issues are spelled by his stars…
Randhir Kapoor is one of the sons of the famed Kapoor family of Bollywood. He is one of the sons of the veteran actor of the yesteryears; Raj Kapoor. Randhir Kapoor too is an actor...