Today's Celebrity Horoscope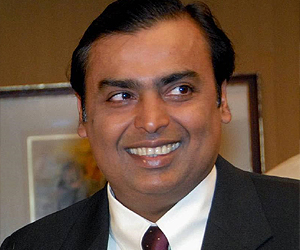 Mukesh Ambani
BORN: 1957-04-19
SIGN: Aries
PROFESSION: Business man

Mukesh Ambani is the MD and Chairman of Reliance Industries. As the elder son of Dhirubhai Ambani the legendary Indian business tycoon, he joined Reliance Industries 1981. He headed the Reliance industries for textiles to polyester fibres, petrochemical and petroleum refining. The billionaire businessman is married to Nita Ambani and has three children..
Personality scope
Mukesh D. Ambani is a chemical engineer from University Institute of Chemical Technology), University of Mumbai (earlier University of Bombay). He has pursued an MBA from Stanford University, USA. He doesn't eat meat or drink alcohol. He prefers to wear short-sleeve shirts instead of western suits. He watches bollywood movies regularly to get 2-3 hours of relief from his life. Mukesh likes to visit Kruger National Park in South Africa with his family. The latest item in his portfolio is cricket. He owns the Indian Premier League team, the Mumbai Indians.
Career scope
He joined Reliance Industries in 1981. He initiated Reliance's backward integration journey from textiles into polyester fibres and further into petrochemicals, petroleum refining and going up-stream into oil and gas exploration and production. He directed the creation of the Jamnagar Refinery. Mukesh Ambani has set up one of the largest and most complex information and communications technology initiative in the world in the form of Reliance Infocomm Limited (now Reliance Communications Limited).
Achievements scope
He has won many awards and has been nominated for many more. He was chosen as the businessman of the year 2007 by a public poll in India conducted by NDTV. He conferred the United States-India Business Council (USIBC) leadership award for "Global Vision" 2007 in Washington. He was ranked 42nd among the World's Most Respected Business Leaders and second among the four Indian CEOs featured in a survey conducted by Price water house Coopers and published in Financial Times, London, and November 2004. He conferred the World Communication Award for the Most Influential Person in Telecommunications in 2004 by Total Telecom, October, 2004. He was chosen Telecom Man of the Year 2004 by Voice and Data magazine, September 2004. He was ranked 13th in Asia's Power 25 list of The Most Powerful. He was awarded the "Chitralekha Person of the Year Award -- 2007" by Gujarat Chief Minister Narendra Modi. He became the former Chairman of IIM-B. He was awarded with the Honorary Fellow of IChemE (the Institution of Chemical Engineers)
Family and relationships scope
Mukesh Ambani is the eldest child of a close-knit Gujarati Baniya family. His family (including parents and brother) lived in a downmarket 2 bedroom apartment in Bhuleshwar, Bombay until the 1960s, when they moved to a much better neighbourhood. When Mukesh was in high school he would spend long hours with his father in the office on weekends, developing his passion for business and entrepreneurship that his father, Dhirubhai Ambani was the epitome of. He is married to Nita Ambani and has 3 children, Aakash, Anant and Isha.
Money scope
Mukesh Ambani owns Antilia his private home in South Mumbai which includes a staff of 600 to maintain the residence 24/7. As of November 2014, it is deemed to be the world's most expensive residential property, after Buckingham Palace, which is designated as a crown property. It is thus the world's most expensive private residential property, valued at $1 billion. Its unique design makes it clearly distinguished in the Mumbai skyline. It is located on the prestigious Cumballa Hill. It has around 600 rooms.
Health scope
He will be healthier if he learns to draw a line between over activity and inactivity. The good news is 2017 adds to 1, his birth number. So, if he has to give a 'dabangg' next year, he will need to start shooting now. Treat this year as an investment then to garner harvest for the future.
Mukesh Ambani is the MD and Chairman of Reliance Industries. As the elder son of Dhirubhai Ambani the legendary Indian business tycoon, he joined Reliance Industries 1981. He heade...