Today's Celebrity Horoscope

Kavitha Krishnamurthy
BORN: 1958-01-25
SIGN: Aquarius
PROFESSION: Singer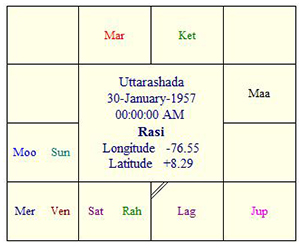 Kavitha Krishnamurthy is a renowned playback singer of the Indian movie industry. Her special training in the classical genre of music has made her stand out as an acclaimed classical singer too. She was born on January 25th and is an Aquarian by virtue of her date of birth
Personality scope
Planets on her natal chart impart her personality with an enigma that makes her all the more charming. She is reserved and moody by nature but is also warm and friendly to a chosen few. She loves to day-dream and her mind is laden with fine intellect
Career scope
Her creative and artistic bent of mind allows her to find access to myriad career avenues which might not seem visible to others. She enjoys her work, is dedicated towards it and derives solace and satisfaction from it.
Achievements scope
She is a brilliant performer who has won scores of hearts through her melodious renditions. She has been honored with many awards as an attestation of her talent. Some of the awards she has achieved so far include Padma Shri, IIFA Award for best playback singer, Filmfare award for best playback singer etc
Family and relationships scope
When it comes to relationships she has a reserved and idealistic approach. She takes time to open up but when she does, she makes sure to do full justice to that relationship. She wishes to see a perfect soul mate in her partner
Money scope
The initial phase of her life may witness some financial hurdles but as life moves on, she is likely to acquire financial stability after which she might not have to worry anymore about money
Health scope
Her physical health directly depends on her emotional well being. If she is depressed or stressed out emotionally, her body will send out negative responses, thereby causing a rapid decline in physical health
Kavitha Krishnamurthy is a renowned playback singer of the Indian movie industry. Her special training in the classical genre of music has made her stand out as an acclaimed classi...