Today's Celebrity Horoscope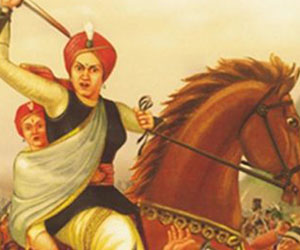 Jhansi ki rani
BORN: 1828-11-19
SIGN: Scorpio
PROFESSION: Queen of Jhansi State

Jhansi ki Rani; Lakshmi Bai is an eminent figure in India's historical struggle for freedom against the British rule. She had been queen to the throne of Jhansi; the then Maratha princely state. Rani Lakshmi Bai had been a daring icon of freedom struggle against all the British repressive moves and strategies. She was born on November 19 and belonged to the zodiac sign 'Scorpio'
Her planets and personality
Planets sun and moon acted upon the natal chart of Jhansi ki Rani; Lakshmi Bai giving her all the traits and characteristics that make her a famous figure for all Indians. Under these planetary influences Lakshmi Bai got a very determined and courageous nature which finds a clear expression through the many battles she fought on horseback. But apart from being courageous, she was also very caring, doting and motherly and that of course is another side of her personality.
Her childhood and early life
She was born to a Varanasi-based Maratha family and her father was Moropant Tambey who worked in Peshwa Baji rao II's court. Rani Lakshmi Bai was called Manikarnika or Manu in her childhood years and it is only after her marriage that she got the name Lakshmi Bai. During her childhood years, apart from learning household chores plus engaging in studies she also took some training in martial arts such as fencing, shooting and horse riding. When she was 14 years old, she got married to Gangadhar Rao, King of Jhansi and thus became the queen of Jhansi; Rani Lakshmi Bai.
Her heroic feats and achievements
Rani of Jhansi is an inspiration for all women. Stories of her valor make the rounds till date. She fought fiercely against the British forces and proved her mettle during the revolt of 1857. She led an army and brilliantly defeated the invaders from Datia and Orchcha. She offered strong resistance to the British forces who came to besiege Jhansi. Later with the support of Tantya Tope she succeeded in seizing Gwalior. She wielded swords heroically, fought on horseback and had been a real fighter and capable administrator
Jhansi ki Rani; Lakshmi Bai is an eminent figure in India's historical struggle for freedom against the British rule. She had been queen to the throne of Jhansi; the then Mar...