Today's Celebrity Horoscope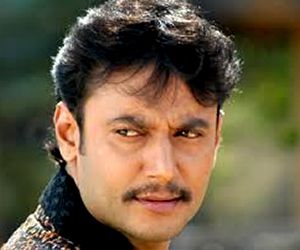 Darshan Tugudeep
BORN: 1977-02-16
SIGN: Aquarius
PROFESSION: Actor

Darshan Tugudeep is a well known actor of the contemporary movie industry. His works are focused primarily on the Kannada movie industry. Apart from being an actor, Darshan is also a movie distributor as well as producer. He was born on February 16th and is an Aquarian by virtue of his date of birth
Personality scope
The planetary alignments on the natal chart of Darshan Tugudeep make him what he is as a person. Under the influence of his dominant planets, he turns out to be an optimistic individual with a keen attention to details.
Career scope
Jobs or career projects which have some depth in them appeal to him a lot. He is repelled by career task of the superficial nature. A career that could retain his interest in it and bring about a steady inflow of remuneration is what he tends to opt for
Achievements scope
Darshan has innate acting skills that came down to him hereditarily from his father, Thoogudeepa Srinivas, another renowned actor of the Kannada movie industry. The many awards that he has achieved so far include awards like TV9 Awards, Zee Kannada innovative film awards, Suvama film awards, Kannada state film awards etc
Family and relationships scope
He shows a kind of impatient streak when it comes to the relationship domain. He knows well which relationships he needs to maintain and which not. Thus, he never wastes time when it comes to going ahead with the chosen ones…
Money scope
He is naturally blessed with excellent business skills and monetary wisdom which is why money is never a problem for him. His financial domain is remarkably stable and clearly exhibits his fathomless budgeting capabilities
Health scope
Most of the health-related ailments he tends to fall prey to arise from over-exertion. Going over the board in challenging his endurance may lead to health problems such as sleep disorders, metabolic disorders and aches and pains…
Darshan Tugudeep is a well known actor of the contemporary movie industry. His works are focused primarily on the Kannada movie industry. Apart from being an actor, Darshan is also...