Today's Celebrity Horoscope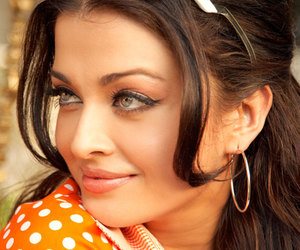 Aishwarya Rai
BORN: 1973-11-01
SIGN: Scorpio
PROFESSION: Actress

Aishwarya Rai enjoys the reputation of being the most beautiful heroine in the Indian film industry. She is beauty pageant turned heroine who won the Miss World contest in 1994 soon after which she joined the film industry as an actress. Apart from Bollywood movies she has acted in many Tollywood and Hollywood movies too and enjoys great acclaim for her powerful acting. She also enjoys reputation for being the 'bahu' to the esteemed Bachchan family of Bollywood. She was born on November 1st and is a Scorpion by virtue of her date of birth
Personality scope
Planets Sun and Pluto shape the personality of Aishwariya. Under the impact of these planets she turns out to be an energetic and passionate individual with a strong zest for life. Her mind is ambitious and she always opts for the best in life
Career scope
Her ambition and intellectual mind greatly fuel her career journey. She has all the ability and skills to turn a meager opportunity to a grand success. Her performances at work front are likely to turn her into a talk of the town
Achievements scope
There is actually no end to her achievements in life. She has won many prestigious awards in her career some of which include awards like Padma Shri in 2009, Filmfare award for best actress, Screen award for best actress, IIFA Award for best actress, Zee Cine awards for true Indian actress and the like.
Family and relationships scope
She considers all her relationships to be precious and values them a lot. She tries to be very honest and dutiful when it comes to executing her relationship with her family and close friends.
Money scope
She is gifted by her stars with a stable source of income. She is good at money management and is not prone to any sort of impulsive spending. Her investment luck too seems bright enough and thus brings forth amplification of assets for her
Health scope
Her general health is more or less average. She is not at all inclined towards following a strict and complex health routine. Instead she tries to improve her overall vitality through a sensible and healthy lifestyle
Aishwarya Rai enjoys the reputation of being the most beautiful heroine in the Indian film industry. She is beauty pageant turned heroine who won the Miss World contest in 1994 soo...